An Introduction To Sociolinguistics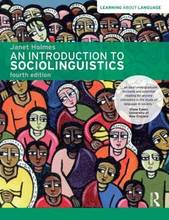 Stock information
: $32

.99

(NZD)

: 9781408276747
: Taylor & Francis Ltd
: Routledge
:
:
: January 2013
: 246mm X 189mm X 28mm
: United Kingdom
: 58.0
: January 2013
:
:
: books
:
:
: Janet Holmes
: Learning About Language
: Paperback
: 4th Revised edition
:
:
: 306.44
:
:
: 512
:
:
:
:
9781408276747
Description
Sociolinguistics is the study of the interaction between language and society. In this classic introductory work, Janet Holmes examines the role of language in a variety of social contexts, considering both how language works and how it can be used to signal and interpret various aspects of social identity. Written with Holmes' customary enthusiasm, the book is divided into three sections which explain basic sociolinguistic concepts in the light of classic approaches as well as introducing more recent research. This fourth edition has been revised and updated throughout using key concepts and examples to guide the reader through this fascinating area, including: - New sections on: koines and koineisation linguistic landscapes New Englishes Stylisation language and sexuality societal approaches to attitude research forensic linguistics - A new selection of informative examples, exercises and maps -Fully updated further reading and references sections An Introduction to Sociolinguistics is an essential introductory text for all students of sociolinguistics and a splendid point of reference for students of applied linguistics. It is also an accessible guide for those who are simply interested in language and the many and varied uses we put it to.
Author description
Janet Holmes is Professor of Linguistics at Victoria University of Wellington. She teaches sociolinguistics courses from first year to postgraduate level Her books include Gendered Talk at Work andthe Blackwell Handbook of Language and Gender (co-edited with Miriam Meyerhoff). Most recently she has published Leadership, Discourse and Ethnicity (co-authored with Meredith Marra and Bernadette Vine) reflecting her most recent research interests which focus on leadership discourse and the relevance of gender and ethnicity in the workplace.
Table of contents
ContentsPreface to Fourth EditionPreface to Third EditionPreface to Second Edition Preface to First Edition Author's Acknowledgements Publisher's Acknowledgements 1. What do sociolinguists study? What is a sociolinguist? Why do we say the same thing in different ways? What are the different ways we say things? Social factors, dimensions and explanations Section I: Multilingual Speech Communities2. Language choice in multilingual communities Choosing your variety or code Diglossia Code-switching or code-mixing 3. Language maintenance and shift Language shift in different communities Language death and language loss Factors contributing to language shift How can a minority language be maintained? Language revival 4. Linguistic varieties and multilingual nations Vernacular languages Standard languages Lingua francas Pidgins and creoles 5. National languages and language planning National and official languages Planning for a national official language Developing a standard variety in Norway The linguist's role in language planning Section II: Language Variation: Focus on Users6. Regional and social dialects Regional variation Social variation Social dialects 7. Gender and age Gender-exclusive speech differences: non-Western communities Gender-preferential speech features: social dialect research Gender and social class Explanations of women's linguistic behaviour Age-graded features of speech Age and social dialect data Age grading and language change 8. Ethnicity and social networks Ethnicity Social networks 9. Language change Variation and change How do changes spread? How do we study language change? Reasons for language change Section III: Language Variation: Focus on Uses10. Style, context and register Addressee as an influence on style Accommodation theory Context, style and class Style in non-Western societies Register 11. Speech functions, politeness and cross-cultural communication The functions of speech Politeness and address forms Linguistic politeness in different cultures 12. Gender, politeness and stereotypes Women's language and confidence Interaction Gossip The linguistic construction of genderThe linguistic construction of sexuality Sexist language 13. Language, cognition and culture Language and perception Whorf Linguistic categories and culture Discourse patterns and culture Language, social class, and cognition 14. Analysing Discourse Pragmatics and politeness theoryEthnography of speaking Interactional sociolinguisticsConversation Analysis (CA)Critical Discourse Analysis (CDA) 15. Attitudes and applications Attitudes to language Sociolinguistics and education Sociolinguistics and forensic linguistics 16. Conclusion Sociolinguistic competence Dimensions of sociolinguistic analysis Sociolinguistic universals References Appendix: phonetic symbols Glossary Index