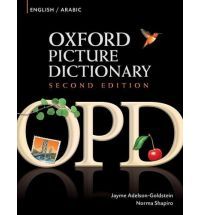 $55.99
NZD
Category: Arabic Dictionaries
Content is organized within 12 thematic units, from Everyday Language, to People, to Housing, to Food, to Recreation. Each unit starts with an 'Intro' page (new to this edition) and ends with a story page, with single or double-page sub-topics introducing new words in a realistic visual context and easy -to-learn 'chunks'. The target new vocabulary is listed, and simple practice activities help students to put their new words into practice. Story pages include pre-reading questions to build previewing and predicting skills, and post-reading questions and role-play activities to support critical thinking and to encourage stsudentsto use the new language they have learned. Rich visual contexts recycle words from the unit. ...Show more
$26.99
NZD
Category: Arabic Dictionaries | Series: UK Bestselling Dictionaries Ser.
The Oxford Essential Arabic Dictionary is a brand-new compact Arabic-English and English-Arabic dictionary that offers up-to-date coverage of essential day-to-day vocabulary and includes more than 16,000 words and phrases, carefully selected according to frequency of use. Portable and easy to use, this dictionary is designed for both English and Arabic speakers and is ideal for business, travel, and quick reference. For Arabic and English speakers there are many user-friendly features. For Modern Standard Arabic, vowels are included in the headwords to help with pronunciation, and headwords are ordered alphabetically rather than by the more traditional root order. For English, phonetic transcriptions are given for every headword. In both sides of the dictionary there is clear help for words that have more than one meaning. There is also a supplement giving extra help for tricky areas such as English irregular verbs, Arabic verb forms, and Arabic numbers Presented with a brilliantly clear and open design, the Oxford Essential Arabic Dictionary is the ideal companion for anyone needing a reliable and portable Arabic-English and English-Arabic Dictionary for business, travel, and home. ...Show more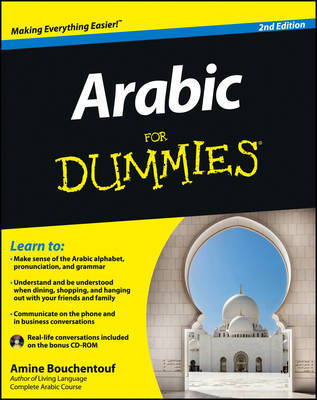 $34.99
NZD
Category: Arabic Coursebooks | Series: For Dummies | Reading Level: General Adult
The fast and easy way to learn to speak Modern Standard Arabic Regarded as one of the most difficult languages to learn for native English speakers, Arabic is gaining global prominence and importance. Recent world events have brought more and more English speakers into contact with Arabic-speaking popu lations, and governments and businesses are increasingly aware of the importance of basic Arabic language skills. Arabic For Dummies presents the language in the classic For Dummies style. Taking a straightforward and practical approach to this complex language, it's packed with practice dialogues and communication tips that will have you talking the talk in no time. The Arabic alphabet, pronunciation, basic grammar, and the rules of transliteration The history of the language and information on classical Arabic and its dialects-focusing on Modern Standard Arabic How to make small talk and make yourself understood when dining, shopping, or traveling around town How to communicate on the phone and in business conversations Handy words and phrases for dealing with money, directions, hotels, transportation, and emergencies Arabic culture and etiquette, including ten things you should never do in Arabic countries Recognizing Arabic symbols and characters The book also includes an Arabic-English dictionary, verb tables, and an audio CD with dialogues from the book to help you perfect your pronunciation Written by a native Arabic speaker who helped start a year-round Arabic department at Middlebury College, Arabic For Dummies is just what you need to start making yourself understood in Arabic. CD-ROM and other supplementary materials are not included as part of the e-book file, but are available for download after purchase. ...Show more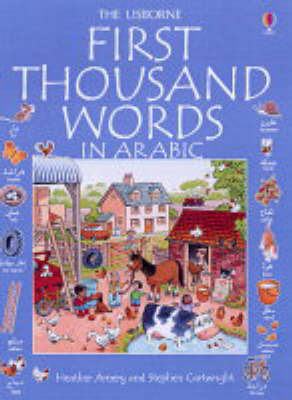 $19.99
NZD
Category: Arabic Dictionaries | Series: First 1000 Words
This is an introduction to 1000 common words in classical Arabic. Arranged thematically, many of the pages show an everyday scene, surrounded by pictures of objects from the scene with their Arabic names. An Arabic/English dictionary of all the words is included.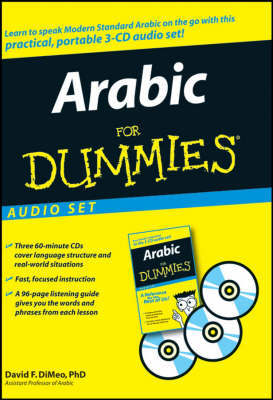 $29.99
NZD
Category: Arabic Coursebooks | Series: For Dummies S.
Learn how to speak and understand Modern Standard Arabic quickly and easily with Arabic For Dummies Audio Set , which allows you to practice your skills whether you're at home or on the road. From 3 hours of instructional material on 3 CDs, learn basic greetings, vocabulary, how to ask for directions, get help when you need it most, expressions, grammar, and other essentials that will allow you to start communicating right away. Follow along with the handy portable guide, which is filled with words and phrases that you'll hear on the CD. ...Show more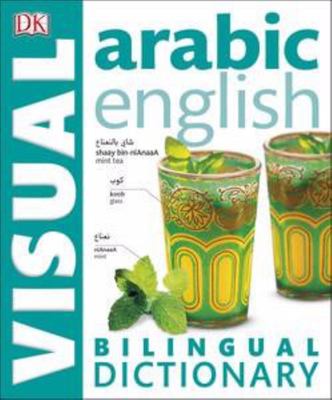 $24.00
NZD
Category: Arabic Dictionaries
The DK Arabic-English Bilingual Visual Dictionary introduces the vocabulary of the modern world in themed chapters filled with full-colour photographs and artworks which display and label all elements of everyday life. With sections ranging from home and work to leisure and the environment, every item i s clearly labelled in Arabic with the translation and pronunciation guide directly below. The Arabic-English Bilingual Visual Dictionary is a colourful and stimulating learning resource ideal for all levels and ages. With more than 6,000 terms annotated, the illustrations in the dictionary provide a quick and intuitive route to learning a language, defining the words visually so it is easier to remember them. Learning Arabic has never been easier! ...Show more
Items per page:
1 - 6 of 6