$41.00
NZD
Category: Mirai | Series: Longman Languages Ser.
Mirai is a full-colour, user-friendly language course, with a fun and engaging approach to Japanese language that will appeal to both students and teachers. Authentic and up-to-date photos and maps are presented in context so that Australian students gain an appreciation of Japanese language and culture . Mirai is written in line with LOTE National Profiles and addresses the three strands of writing, reading, and listening and speaking. Mirai Language Activity Book is also accompanied by Mirai Coursebook, Teacher's Book and Audio CDs. ...Show more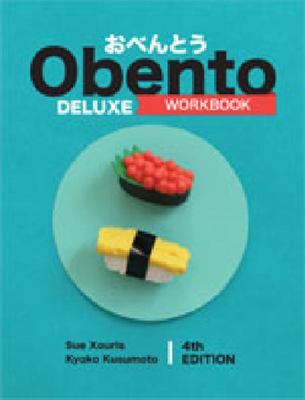 $39.95
NZD
Category: Obento | Series: Obento Ser. | Reading Level: year Level: 07 and 08
Now supported by a suite of digital resources, including the NelsonNetBook, the best loved features have been continued, with rich video and audio resources and an emphasis on intercultural understanding and language learning.Obento is a fully integrated course in three stages, written specifically for secondary students learning Japanese. Obento Supreme is the second level of this highly popularseries. The Obento Supreme Workbook has been completely revised and offers a wealth ofconsolidating and reinforcing exercises to revise language and structures, plus:• Tear-out kanji flashcards• CD of audio tracks needed to complete the listening tasks in class or at home• DVD of cultural videos as well as the unit theme videos (with and without subtitles) that exemplify the language covered in the Student Book. ...Show more
$58.95
NZD
Category: Wakatta! | Series: WAKATTA! 2 unit senior secondary Japanese course
Wakatta! has been written for senior high school students continuing their study of Japanese. The course is constructed around key topic areas. It is design to develop essential skills for effective oral and written communication in Japanese. Wakatta! covers two years' study and can be used as the core component of any senior high school course. The Wakatta! Course integrates three resources: - A Course Book of twelve well-balanced units of work, each of which includes essential vocabulary, kanji characters, reading texts, explanations of language patterns and consolidation of the topic area - Two Workbooks with wide range of activities and exercises in reading, writing, speaking, listening, grammar and kanji as well as puzzles, role-plays and dialogues - 7 Audio tapes featuring oral texts and listening exercises. Wakatta! is user-friendly, student focused and has several outstanding features: - Comprehensive, straightforward explanations of Japanese language structure with numerous examples - Grading of listening exercises into three levels to cater foe all abilities - An extensive variety of activities to make learning practical and exciting - Kanji organised into each topic unit. ...Show more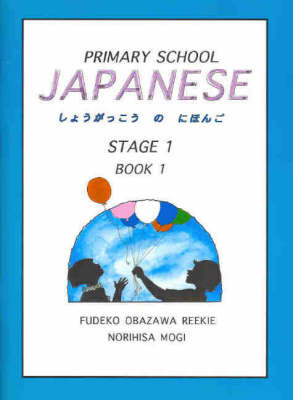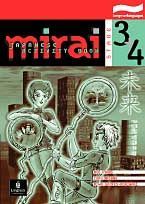 $40.79
NZD
Category: Mirai | Series: Longman Languages Ser.
Third stage of an imaginative, fully integrated, six-level course with a strong focus on language acquisition, integrated grammar and the full range of Japanese culture, popular and traditional.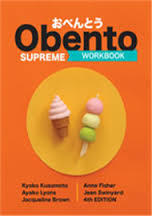 Obento Supreme Workbook 4 ed
by Kyoko Kusumoto, Ayako Lyons, Jacqueline Brown, Anne Fisher, Jean Swinyard
$39.95
NZD
Category: Obento | Reading Level: Year Level: 09 and 10
The new editions of the Obento series have been updated in response to teachers' feedback and changing emphases in the curriculum and technology. Now supported by a suite of digital resources, including the NelsonNetBook, the best loved features have been continued, with rich video and audio resources a nd an emphasis on intercultural understanding and language learning.Obento is a fully integrated course in three stages, written specifically for secondary students learning Japanese. Obento Supreme is the second level of this highly popularseries. The Obento Supreme Workbook has been completely revised and offers a wealth ofconsolidating and reinforcing exercises to revise language and structures, plus:• Tear-out kanji flashcards• CD of audio tracks needed to complete the listening tasks in class or at home• DVD of cultural videos as well as the unit theme videos (with and without subtitles) that exemplify the language covered in the Student Book.*Complimentary access to NelsonNet is available to teachers who use the accompanying student book and workbook as a core resource in their classroom. Contact your education consultant for access codes and conditions. ...Show more
$39.95
NZD
Category: Obento
The Obento series is the market-leading Japanese series for Years 7–10 students in Australia. The fifth edition is revised and updated with greater explicit alignment to The Australian Curriculum: Japanese, greater support for the acquisition of Japanese script, streamlined and high-calibre digital cont ent and a more cohesive 7–10 series.The write-in consumable workbook offers a range of macro-skill (L/S/R/W) activities, plus:Videos and all audio for the workbook activities so students can complete tasks independantlyAccurate modelling of pronunciation and fluency in all audio filesNumerous opportunities to practise and consolidate the key language and script in the student book. ...Show more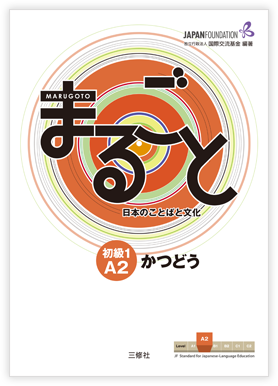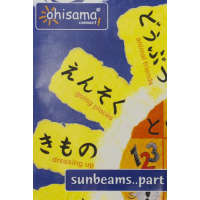 $115.00
NZD
Category: Ohisama
Second Sunbeams book. Between the two Sunbeams there are 12 areas - shopping, home, animals, excursions, friends, family, dressing up, transport, communication, a year, a day, playing games. Language will be from the CORE areas plus specific vocabulary; for example, shopping - specific vocabulary will be yen, dollars, Japanese style shops, noren, ikura, ikutsu. The two SUNBEAMS books are filled with ideas and activities, plays, dialogues, games, songs for all learning levels. With topics and directions being pursued, vital cultural connections will be important, hence the CLOUDS. ...Show more

$65.95
NZD
Category: Obento
Obento Senior was purpose-written for senior secondary students. The content, including themes, topics and levelling, has been developed in accordance with the Japanese Study Designs and Collaborative Curriculum and Assessment Framework for Languages (CCAFL). Obento Senior is comprised of ten chapters t hat are each formulated for study as stand-alone units, allowing for a number of entry points. It features a range of text types and delves into a range of themes and topics. The Obento Senior Grammar Booklet comes packaged with this Student Book and is also sold separately. 1 The Nomura family and friends 2 Food, fun and fashion 3 Rapid change and no change 4 A new adventure to Japan begins 5 Staying healthy Japanese style 6 City life and country life 7 Learning to work and working to learn 8 Festivals and celebrations here and there 9 Japan - travel trends 10 Social and environmental issues ...Show more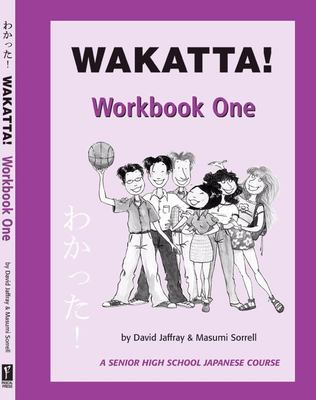 $37.95
NZD
Category: Wakatta! | Series: WAKATTA! 2 unit senior secondary Japanese course
Wakatta! Workbook 1 is an essential component of the Wakatta! senior high school Japanese course. It provides students with the opportunity to practise and consolidate all content covered in the first six units of the Wakatta! Course Book. Each unit of the workbook provides: -Practice in reading and wri ting kanji individually and in context -Reading, writing and speaking tasks on the Wakatta! topics -Three levels of listening tasks (using the Wakatta! audio tapes) -Puzzles, including crosswords and find-a-words -Grammar exercises targeting the language patterns covered in the Wakatta! Course Book. Wakatta! Workbook 1 enables students to become confident and proficient in communicating in spoken and written Japanese. ...Show more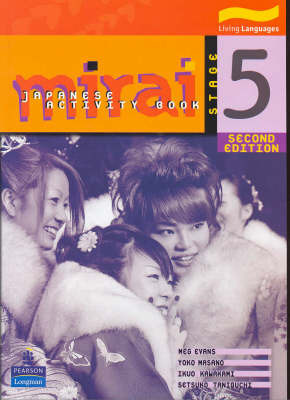 $40.79
NZD
Category: Mirai
Mirai is a full-colour, user-friendly language course, with a fun and engaging approach to Japanese language that will appeal to both students and teachers. Authentic and up-to-date photos and maps are presented in context so that Australian students gain an appreciation of Japanese language and culture . Mirai is written in line with LOTE National Profiles and addresses the three strands of writing, reading, and listening and speaking. Mirai Language Activity Book is also accompanied by Mirai Coursebook, Teacher's Book and Audio CDs. ...Show more