Aula Internacional is a widely used Spanish language course published by Spanish publisher Difusion. It is targeted to young adults and can be used in tertiary education, or in the higher years of secundary education. The course consists of 5 levels, ranging from level A1 to B2.2. Each volume includes the student and exercise book as well as a grammar summary. The level 1 volume can be supplemented with a Grammar and Vocabulary Companion.
In 2020 Difusion has published Aula International Plus, an updated version of the Aula International New Edition. Level 1 to 3 (A1-B1) have been published in 2020. Level 4 and 5 (B2.1 and B2.2) will become available in 2021. Aula International Plus has alternative versions of texts, audio and digital content for different Spanish speaking countries available via Campus Difusion. There is also a greater focus on vocabulary and videos have been updated.
Note: Level 1 comes in a Spanish and a bilingual Spanish-English version.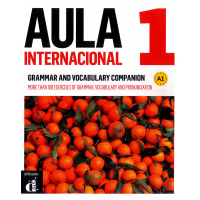 $35.00
NZD
$37.00
(5% off)
Category: Aula Internacional | Series: Aula internacional | Reading Level: A1
More than 100 exercises of grammar, vocabulary and pronunciation, speicifically designed for English speakers, are provided in this companion book to supplement the Level 1 coursebook. A thematic index with contents is provided per unit for easy reference, and free download of the MP3 files of the pron unciation activities and answer key are provided online. ...Show more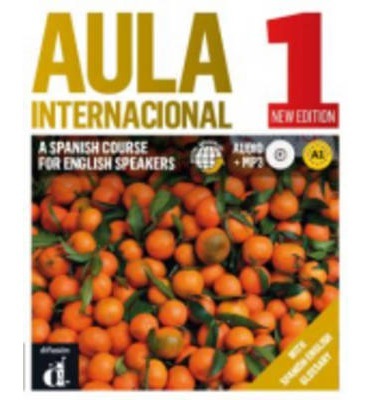 $71.95
NZD
$74.95
(4% off)
Category: Aula Internacional | Series: Aula internacional | Reading Level: A1
Aula internacional 1 New Edition is the Spanish course action orientated that makes the classroom the perfect context for language learning with: a variety of activities that address students' different learning styles a balance between developing receptive and productive skills that maximizes stude nt interaction precise and detailed grammar explanations based on context and meaning clear attractive graphics and page design a wide variety of listening tasks a video segment for each unit an extensive range of digital resources Aula internacional 1 New Edition is compact; one single volume contains: the Coursebook the Workbook (Más ejercicios) a CD of the class audio recordings an extensive grammar summary (Más gramática) a complete table of regular and irregular verbs ...Show more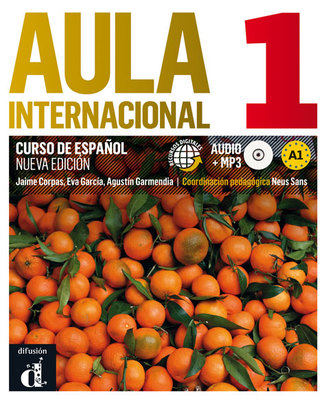 $69.00
NZD
Category: Aula Internacional | Series: Aula internacional | Reading Level: A1
Aula internacional 1 Nueva edición es el curso de español orientado a la acción que hace del aula el contexto perfecto para el aprendizaje de la lengua: por su variedad de actividades, que tienen en cuenta los diferentes estilos de aprendizaje por su equilibrio entre el trabajo de comprensión, de pr oducción y de interacción por su tratamiento de la gramática, riguroso y significativo por su lenguaje gráfico claro y atractivo porque ofrece numerosos documentos auditivos porque cada unidad didáctica incorpora un vídeo porque se complementa con una plataforma de recursos digitales Aula internacional 1 Nueva edición es un manual compacto; es decir, en un mismo volumen se incluyen: el libro del alumno el cuaderno de ejercicios (Más ejercicios) un CD con las audiciones un extenso resumen gramatical (Más gramática) una completa tabla de verbos regulares e irregulares ...Show more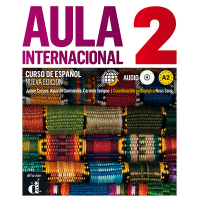 $71.95
NZD
$74.95
(4% off)
Category: Aula Internacional | Series: Aula internacional | Reading Level: A2
 Aula internacional 2 Nueva edición es el curso de español orientado a la acción que hace del aula el contexto perfecto para el aprendizaje de la lengua: por su variedad de actividades, que tienen en cuenta los diferentes estilos de aprendizaje por su equilibrio entre el trabajo de comprensión, de p roducción y de interacción por su tratamiento de la gramática, riguroso y significativo por su lenguaje gráfico claro y atractivo porque ofrece numerosos documentos auditivos porque cada unidad didáctica incorpora un vídeo porque se complementa con una plataforma de recursos digitales Aula internacional 2 Nueva edición es un manual compacto; es decir, en un mismo volumen se incluyen: el libro del alumno el cuaderno de ejercicios (Más ejercicios) un CD con las audiciones un extenso resumen gramatical (Más gramática) una completa tabla de verbos regulares e irregulares   ...Show more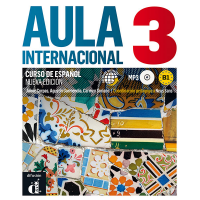 $71.95
NZD
$74.95
(4% off)
Category: Aula Internacional | Series: Aula internacional | Reading Level: B1
Aula internacional 3 Nueva edición es el curso de español orientado a la acción que hace del aula el contexto perfecto para el aprendizaje de la lengua: por su variedad de actividades, que tienen en cuenta los diferentes estilos de aprendizaje por su equilibrio entre el trabajo de comprensión, de pr oducción y de interacción por su tratamiento de la gramática, riguroso y significativo por su lenguaje gráfico claro y atractivo porque ofrece numerosos documentos auditivos porque cada unidad didáctica incorpora un vídeo porque se complementa con una plataforma de recursos digitales Aula internacional 3 Nueva edición es un manual compacto; es decir, en un mismo volumen se incluyen: el libro del alumno el cuaderno de ejercicios (Más ejercicios) un CD con las audiciones un extenso resumen gramatical (Más gramática) una completa tabla de verbos regulares e irregulares   ...Show more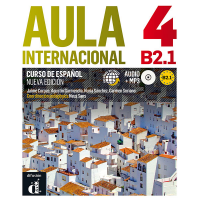 $71.95
NZD
$79.95
(10% off)
Category: Aula Internacional | Series: Aula internacional | Reading Level: B2.1
Aula internacional 4 Nueva edición es el curso de español orientado a la acción que hace del aula el contexto perfecto para el aprendizaje de la lengua: por su variedad de actividades, que tienen en cuenta los diferentes estilos de aprendizaje por su equilibrio entre el trabajo de comprensión, de pr oducción y de interacción por su tratamiento de la gramática, riguroso y significativo por su lenguaje gráfico claro y atractivo porque ofrece numerosos documentos auditivos porque cada unidad didáctica incorpora un vídeo porque se complementa con una plataforma de recursos digitales Aula internacional 4 Nueva edición es un manual compacto; es decir, en un mismo volumen se incluyen: el libro del alumno el cuaderno de ejercicios (Más ejercicios) un CD con las audiciones un extenso resumen gramatical (Más gramática) una completa tabla de verbos regulares e irregulares   ...Show more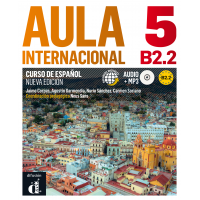 $71.95
NZD
$79.95
(10% off)
Category: Aula Internacional | Series: Aula internacional | Reading Level: B2.2
Aula internacional 5 Nueva edición es el curso de español orientado a la acción que hace del aula el contexto perfecto para el aprendizaje de la lengua: por su variedad de actividades, que tienen en cuenta los diferentes estilos de aprendizaje por su equilibrio entre el trabajo de comprensión, de pr oducción y de interacción por su tratamiento de la gramática, riguroso y significativo por su lenguaje gráfico claro y atractivo porque ofrece numerosos documentos auditivos porque cada unidad didáctica incorpora un vídeo porque se complementa con una plataforma de recursos digitales Aula internacional 5 Nueva edición es un manual compacto; es decir, en un mismo volumen se incluyen: el libro del alumno el cuaderno de ejercicios (Más ejercicios) un CD con las audiciones un extenso resumen gramatical (Más gramática) una completa tabla de verbos regulares e irregulares   ...Show more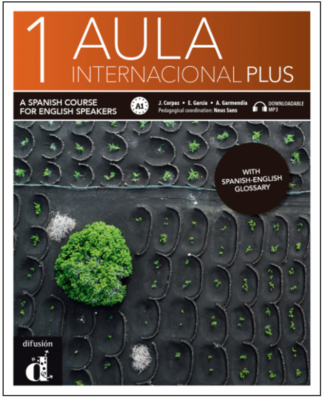 $75.95
NZD
Category: Aula Internacional | Series: Aula internacional | Reading Level: A1
The most popular Spanish textbook in the world updated to be more adaptable and complete than ever.  Aula Internacional Plus includes: more grammar review activities more practice activities more videos greater focus on vocabulary cultural insights further integrated revised and extended gramma r explanations an even more interactive experience ...Show more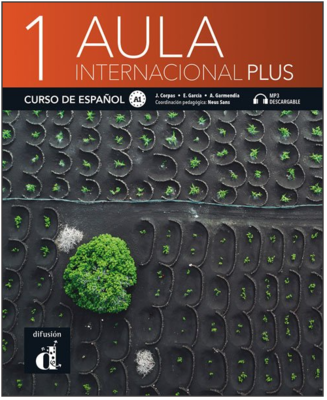 $79.95
NZD
Category: Aula Internacional | Series: Aula internacional | Reading Level: A1
La nueva edición del manual más utilizado en todo el mundo, actualizado para ser aún más completo y adaptable. Aula internacional Plus 1 te ofrece: más actividades de reflexión gramatical, con explicaciones y ejemplos cuidadosamente revisados más actividades de práctica, para reforzar el aprendizaj e de los alumnos más vídeos, integrados a lo largo de cada unidad y con un video final para cerrarla más atención al léxico, con un nuevo apartado para recoger y trabajar el vocabulario de una manera personal y significativa y una página nueva muy visual una mayor integración de la cultura de manera natural en todos los documentos y actividades de la unidad una gramática revisada y ampliada, tanto en el interior de las unidades como en la sección Más gramática una experiencia aún más interactiva, con todos los recursos digitales de Aula internacional Plus en Campus Difusión, flipbook y libro digital interactivo en HTML ...Show more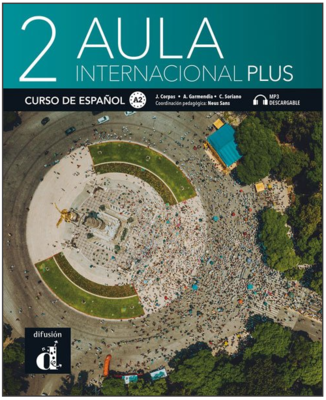 $82.95
NZD
Category: Aula Internacional | Series: Aula internacional | Reading Level: A2
La nueva edición del manual más utilizado en todo el mundo, actualizado para ser aún más completo y adaptable. Aula internacional Plus 2 te ofrece: más actividades de reflexión gramatical, con explicaciones y ejemplos cuidadosamente revisados más actividades de práctica, para reforzar el aprendizaj e de los alumnos más vídeos, integrados a lo largo de cada unidad y con un video final para cerrarla más atención al léxico, con un nuevo apartado para recoger y trabajar el vocabulario de una manera personal y significativa y una página nueva muy visual una mayor integración de la cultura de manera natural en todos los documentos y actividades de la unidad una gramática revisada y ampliada, tanto en el interior de las unidades como en la sección Más gramática una experiencia aún más interactiva, con todos los recursos digitales de Aula internacional Plus en Campus Difusión, flipbook y libro digital interactivo en HTML ...Show more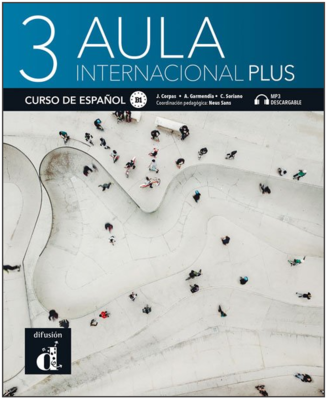 $79.95
NZD
Category: Aula Internacional | Series: Aula internacional | Reading Level: B1
NOTE: This level hasn't been published yet but we can take pre-orders. We don't know when this book will become available. La nueva edición del manual más utilizado en todo el mundo, actualizado para ser aún más completo y adaptable. Aula internacional Plus 3 te ofrece: más actividades de reflexión gramatical, con explicaciones y ejemplos cuidadosamente revisados más actividades de práctica, para reforzar el aprendizaje de los alumnos más vídeos, integrados a lo largo de cada unidad y con un video final para cerrarla más atención al léxico, con un nuevo apartado para recoger y trabajar el vocabulario de una manera personal y significativa y una página nueva muy visual una mayor integración de la cultura de manera natural en todos los documentos y actividades de la unidad una gramática revisada y ampliada, tanto en el interior de las unidades como en la sección Más gramática una experiencia aún más interactiva, con todos los recursos digitales de Aula internacional Plus en Campus Difusión, flipbook y libro digital interactivo en HTML ...Show more
Items per page:
1 - 11 of 11