This is a new series by Hachette. Level 1 is out now, and Level 2 will be published late 2016. For more information check out this website created by our colleagues in Australia: http://adomania.com.au/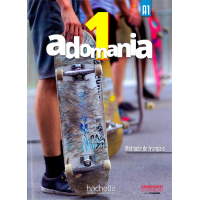 $56.54
NZD
Category: Adomania
The French course Adomania, which is compliant with the Australian Curriculum and Victorian Curriculum in French, is planned in 4 levels and targeted at 11-14 year old beginners. This is the French edition of the level 1 student textbook. This text includes: 1 dossier "Découverte" - the introductory unit demonstrating the French language and icons already familiar to many languages and cultures 8 dossiers "Étapes" (staged learning) of 12 pages with: 1 lesson to introduce discussion of the aims of the unit, theme and the related vocabulary 2 study lessons, each offering familiarisation and learning pathways through the written and oral stimulus documents 1 double page "Cultures" offering reading, intercultural stimulus and discussion plus a task to complete using small group and pair-work activities 1 double page "Éntraînement": language and grammar training, consolidation and exercises 1 page "Evaluation" - self-testing and assessment 1 double page every second dossier of training for the DELF exam - excellent testing if required Supplementary booklet of transcripts of recordings, an illustrated vocabulary, grammatical summary with language expressions and conjugation tables A full multimedia DVD-ROM enclosed with all audio and original documentary video clips per dossier "Étape". These files are also accessed through the Adomania website for download ...Show more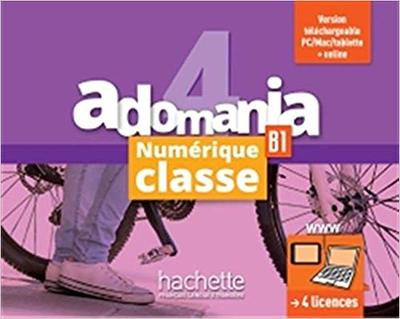 $266.85
NZD
Category: Adomania
Adomania is transforming the way French is taught in Australian secondary classrooms. The key to this transformation is its cutting-edge task-based methodology. Through collaborative learning activities, clear steps enable students to achieve a final chapter task while being immersed in authentic langua ge and culture. The abundance of tasks and activities allows teachers the flexibility to adapt course material to multiple skill levels, which naturally lends itself to differentiated instruction. With a simple layout and presentation of language, a good balance is struck between all competencies.   Adomania is planned in 4 levels, with A1 and A1/A2 available in French and English, and A2 and B1 available in French only.  One manuel numérique classe offers 4 licenses for the enhanced French eBook edition of the livre élève and cahier activités and the Guide pédagogique. Parcours digital®, a separate application with an additional 120 interactive activities and assessments, can be used by teachers to create a virtual classroom where they can measure the progress of their students. The enhanced eBook provides multiple tools, and supplementary games and activities that are not available in the student's eBook. ...Show more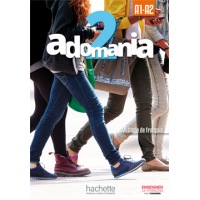 $104.65
NZD
Category: Adomania
The French course Adomania, which is compliant with the Australian Curriculum and Victorian Curriculum in French, is planned in 4 levels and is targeted at 11-14 year old beginners. This a pack containing the textbook, workbook and digital access code for the level 2 English edition. This text includes : 1 dossier "Découverte" - the introductory unit demonstrating the French language and icons already familiar to many languages and cultures 8 dossiers "Étapes" (staged learning) of 12 pages with: 1 lesson to introduce discussion of the aims of the unit, theme and the related vocabulary 2 study lessons, each offering familiarisation and learning pathways through the written and oral stimulus documents 1 double page "Cultures" offering reading, intercultural stimulus and discussion plus a task to complete using small group and pair-work activities 1 double page "Éntraînement" : language and grammar training, consolidation and exercises 1 page "Evaluation" - self-testing and assessment 1 double page every second dossier of training for the DELF exam - excellent testing if required Supplementary booklet of transcripts of recordings, an illustrated vocabulary, grammatical summary with language expressions and conjugation tables A full multimedia DVD-ROM enclosed with all audio and original documentary video clips per dossier "Étape". These files are also accessed through the Adomania website for download ...Show more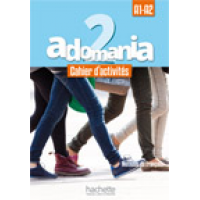 $39.31
NZD
Category: Adomania
The French course Adomania, which is compliant with the Australian Curriculum and Victorian Curriculum in French, is planned in 4 levels and targeted at 11-14 year old beginners. This is the French edition of the level 2 student workbook. It is also available in an English version ISBN 9782014015478 i n November 2016. This workbook includes: oral and written activities for independent and class work a unique digital code for access to the dedicated website for 120+ online interactive supplementary activities training exercises to reinforce vocabulary, grammar, conjugation and phonetics with further activities 2 pages of self-evaluation, tips for learning and answer key, with a "can do" self-assessment chart 8 double pages of activities DNL - "Disciplines non-linguistiques" on differing subjects e.g. Civic education, Geography, Music ...Show more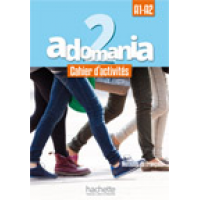 $44.95
NZD
Category: Adomania
The French course Adomania is planned in 4 levels and targeted at 11-14 year old beginners. This is the English edition of the level 2 student workbook. This workbook includes: oral and written activities for independent and class work a unique digital code for access to the dedicated website for 1 20+ online interactive supplementary activities training exercises to reinforce vocabulary, grammar, conjugation and phonetics with further activities 2 pages of self-evaluation, tips for learning and answer key, with a "can do" self-assessment chart 8 double pages of activities DNL - "Disciplines non-linguistiques" on differing subjects e.g. Civic education, Geography, Music ...Show more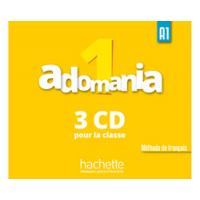 $135.00
NZD
Category: Adomania
The Adomania Classroom audio CDs for level 1/A1 include all of the audio from the student's book, the workbook and the tests in the teacher's guide.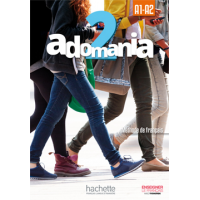 $56.54
NZD
Category: Adomania
This textbook is included in the Adomania 2 Student Pack which includes this text, the English version workbook and the code for the digital download for students to access the eBook versions of the course materials : ISBN 2770000094238 The French course Adomania is planned in 4 levels and targeted at 11-14 year old beginners. This is the English edition of the level 2 student textbook.  This text includes: 1 dossier "Découverte" - the introductory unit demonstrating the French language and icons already familiar to many languages and cultures 8 dossiers "Étapes" (staged learning) of 12 pages with: 1 lesson to introduce discussion of the aims of the unit, theme and the related vocabulary 2 study lessons, each offering familiarisation and learning pathways through the written and oral stimulus documents 1 double page "Cultures" offering reading, intercultural stimulus and discussion plus a task to complete using small group and pair-work activities 1 double page "Éntraînement": language and grammar training, consolidation and exercises 1 page "Evaluation" - self-testing and assessment 1 double page every second dossier of training for the DELF exam - excellent testing if required Supplementary booklet of transcripts of recordings, an illustrated vocabulary, grammatical summary with language expressions and conjugation tables A full multimedia DVD-ROM enclosed with all audio and original documentary video clips per dossier "Étape". These files are also accessed through the Adomania website for download ...Show more
$115.00
NZD
Category: Adomania
livre élève cahier activités ebook access code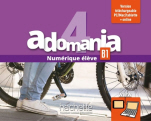 $105.00
NZD
Category: Adomania
An English version of the level 4 manuel numérique élève is available in a pack that includes the livre élève and cahier activités. Click here for details.    Adomania is transforming the way French is taught in Australian secondary classrooms. The key to this transformation is its cutting-edge task-ba sed methodology. Through collaborative learning activities, clear steps enable students to achieve a final chapter task while being immersed in authentic language and culture. The abundance of tasks and activities allows teachers the flexibility to adapt course material to multiple skill levels, which naturally lends itself to differentiated instruction. With a simple layout and presentation of language, a good balance is struck between all competencies.     Adomania is planned in 4 levels, with A1 and A1/A2 available in French and English, and A2 and B1 available in French only. Click here to see how Adomania is compliant with the Australian and Victorian Curriculum in French.   The Adomania manuel numérique élève gives unlimited access the enhanced French eBook edition of the livre élève and cahier activités and is compatible with desktop and tablet devices. Note: Parcours Digital™, which is available with the purchase of the workbook or cahier activités for levels 1–3, is not available for 4.    ...Show more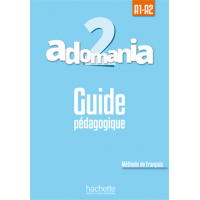 $72.54
NZD
Category: Adomania
The Adomania teacher's guide for level 2/A1-A2 includes: Information regarding course methodology Tips for teaching the course, answer keys and additional tests Resource sheets for the videos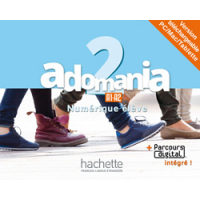 $95.92
NZD
Category: Adomania
The Adomania Interactive student's pack for level 2/A1-A2 includes the French edition of the student's book, workbook, audio and video materials + access to Parcours digital®, compatible with PC, Mac, or tablet (download card). Enquire with us to arrange a multi-user system.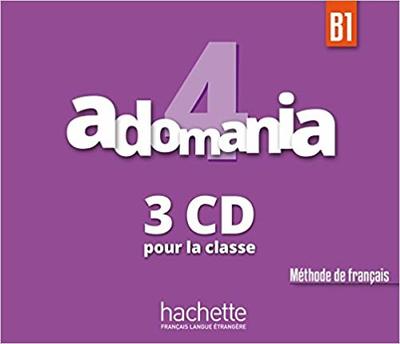 $165.00
NZD
Category: Adomania
Adomania is transforming the way French is taught in Australian secondary classrooms. The key to this transformation is its cutting-edge task-based methodology. Through collaborative learning activities, clear steps enable students to achieve a final chapter task while being immersed in authentic langua ge and culture. The abundance of tasks and activities allows teachers the flexibility to adapt course material to multiple skill levels, which naturally lends itself to differentiated instruction. With a simple layout and presentation of language, a good balance is struck between all competencies.     Adomania is planned in 4 levels, with A1 and A1/A2 available in French and English, and A2 and B1 available in French only. Click here to see how Adomania is compliant with the Australian and Victorian Curriculum in French.   The Adomania CD classe includes the audio for the livre élève, cahier activités, revision and tests in a CD format. ...Show more